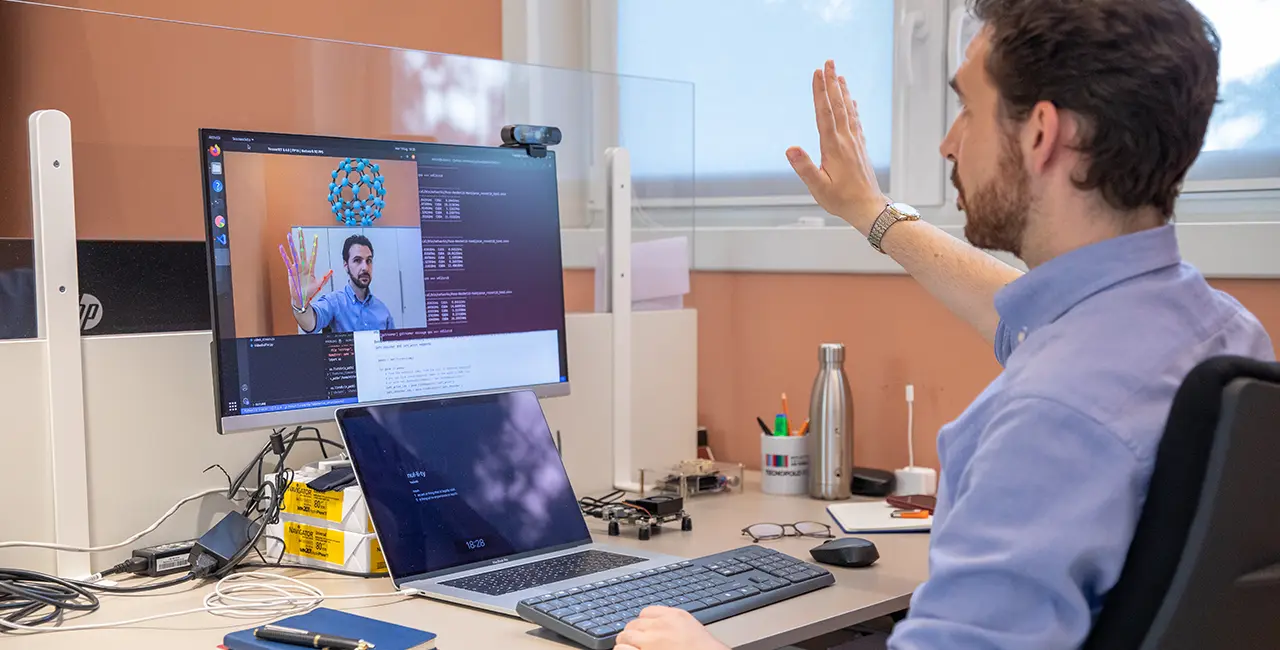 Research
is


development
We develop technologies, study solutions, and create prototypes designed for industrialization and application in companies. We do this in two ways: by participating in public calls (Regional, National, European) and on a commission basis when a company chooses us.
On top of these activities, our researchers work on independent projects researching, investigating, and developing innovative solutions to submit to those companies interested in being more and more competitive and at pace with a constantly evolving world.
We are based in the Research Area of the CNR (National Research Council) in Bologna and are therefore in close contact with institutes, infrastructures, and scientists of the largest Italian national research organization. This strategic location allows us to connect companies with the CNR staff working all over the country.
01.
Digital Transformation
Enabling technologies and digital solutions for the manufacturing supply chain
We are active players in the digital transformation of manufacturing and services. We design and develop devices, technologies, and solutions to generate, collect and process data using Artificial Intelligence.
Electronic board design and assembly

Design of microelectronic devices

Microcontroller programming
CAD design using SolidWorks

Fabrication of functional prototypes using FDM and SLA printers

Characterization and selection of materials

Combined FDM-SLA approach
Processing of data collected by sensors and imaging devices

Predictive models

Multiphysics simulations (mechanical, optical, and thermal)

Implementation and deployment of custom algorithms
Design and implementation of custom optical, MEMS, and RF sensors

Integration of commercial and custom sensors

Advanced lighting engineering
Device design

Edge and Cloud Computing
02.
Green Transition
Sustainable Economic Growth
The development of new technologies and innovative approaches are geared toward sustainable growth with potential benefits for multiple sectors of the surrounding communities.
Support for the industrialization of innovative materials:
Graphene and other 2D materials also functionalized
Food waste-based Biomaterials
Functionalized nanostructured materials for medical applications
Thin-film and organic materials and devices for photovoltaic applications
Magnetocaloric materials for refrigeration and air conditioning applications
Study and development of sustainable packaging materials
Artificial intelligence solutions for optimizing combustion processes of gas blends containing hydrogen
Studies for optimization of processes for domestic and industrial machines.
Development of:
IoT devices for monitoring air, water, soil, crop, and food quality
LoRa data communication systems for applications in crop fields
03.
Social Development
Innovation supporting communities
Aside from strengthening the competitiveness of companies and the production system, we think research and innovation can pursue objectives of significant social impact, fostering social inclusion and improving life quality.